Commercial
I have provided images for several local businesses and have had my images in several online publications too.
A local signmaker Quicksign has used my image of a lighthouse on all its branding including its vehicles.
These images were used by Griffin Nuumed in their online catalogue. They provide equine products to the Bristish Eventing Team.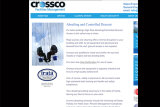 Crossco International Cleaning have used photos of their staff at work throughout their website.
Photography Weekly (Online partner of Digital Camera Magazine ) used this picture of Zest as their image of the day and also was in the weekly digital magazine.
Points West - The local BBC newsprogramme used this image on its facebook page..
" Oxo" used this on their webpage too!!!